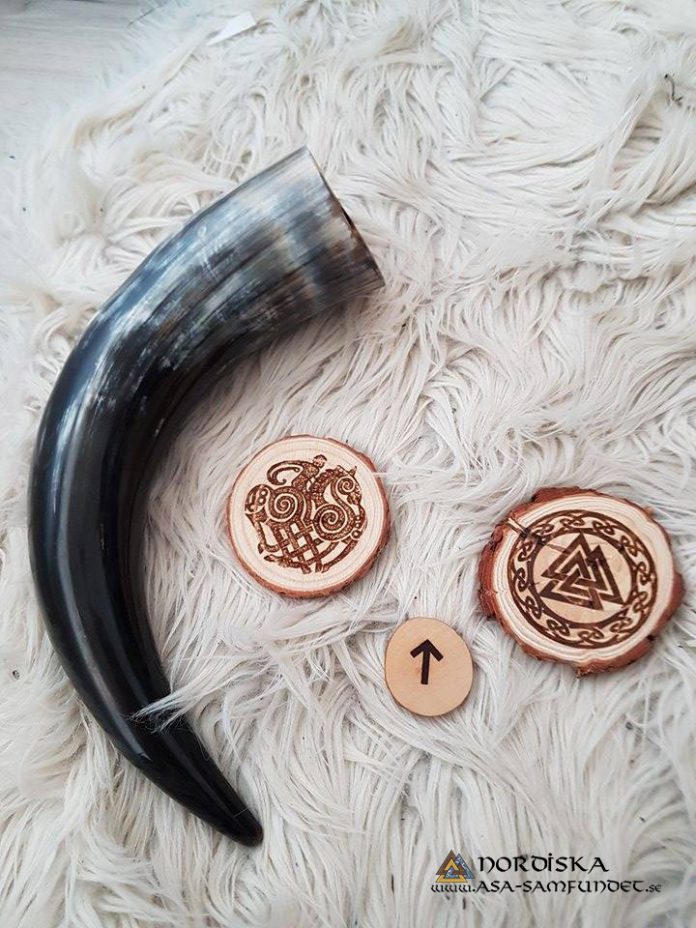 Svenska (Swedish)
Nordiska Asa-Samfundet i New York Times
Se länk till artikeln längst ned.
Då har artiken från New York Times (NYTimes) publicerats. Som vanligt finns det brister och fel i artiken. Detta är dock mer regel än undantag när det gäller media och framförallt från en tidning som bla skrev ord som fascist om Ingvar Kamprad efter hans bortgång.
(https://www.nytimes.com/2018/01/29/opinion/ingvar-kamprad-ikea-fascist.html )
Väljer man en sådan rubrik så förstår man redan där att tidningen har en vinkling och en specifik målgrupp dom vänder sig till. Vi såg tyvärr samma smutskastning av Kamprad från vissa grupper i samma liga här hemma i Sverige med. Vilket såklart är en del av varför vi ser medias förtroende sjunka djupare än en sten i marianergraven. (http://medieakademien.se/wp-content/uploads/2017/04/Fortroendebarometern2017.pdf )
När nu NYTimes kom hit till Sverige för att göra ett reportage om Nordiska Asa-samfundet, Sveriges största samfund för Asatroende och det enda renodlade Asasamfundet. Så blir det lite märkligt att man låter en liten obskyr new age grupp få uttala sig i samma artikel. Det gör lätt att folk kanske blandar oss samman och vi hoppas verkligen att så inte är fallet.
Vi står väldigt långt från varandra i dom flesta frågor. NAS tex arbetar med att bevara vårat arv, kultur, tro, ursprung, seder och bruk. Inte att förändra dom efter någon modern politisk inriktning av iver att passa in.
Att då som i artiken uttala sig som Per gör att våra symboler är tomma och innehållslösa är totalt befängt. Likaså att "göra" en symbol till något annat är lika befängt. Citat:
" Per Lundberg, a spokesman for Forn Sed, pointed out that symbols are always open to interpretation, as he showed a wooden Thor's hammer that was fashioned in a more phallic shape than other iterations.
"Symbols are empty in themselves," he said. "We put meaning on to them."
And:
"encouraged the use of Viking symbols like a wooden Thor's hammer as an icon for gay pride."
Det är med sådana uttalanden som vi ser vikten av att utbilda människor i våra symboler, deras ursprung och värde. Det är därför vi i NAS just nu gör ett symbollexicon som kommer finnas här på hemsidan. Att tro att en symbol ändrar värde efter den som bär den är totalt nonsens. En symbol har sitt värde och den som bär den gör det för att den gillar vad symbolen står för. Att som Per tro att den byter värde är precis den okunskap som leder fram till att så pass högt uppsatta personer som Sveriges Justitieminister öppnar för ett förbud av Runor. Vilket vi har skrivet ett öppet brev om här:
( https://asa-samfundet.se/tyr-runan/ )
Men det är här vi ser skillnaden mellan NAS och andra. Vi arbetar för bevarandet, inte med någon modern förvanskning och vridande av tron. Så hoppas alla ni som läser detta inser hur galet det är när dessa marginaliserade grupper ges utrymme att förvanska vår tro och traditioner och vrida den efter sin politiska agenda.
Det är därför NAS är och kommer vara det enda opolitiska samfundet för Asatro.
Det är därför man ska ta media med ett lass salt
Det är därför man inte ska ge dessa små sekter utrymme att förvanska vår tro.
Välkomna till Nordiska Asa-samfundet.
https://www.nytimes.com/2018/03/17/world/europe/vikings-sweden-paganism-neonazis.html